Game Board Decorations: VBS 2023
Sneak Peek!!
The large stickers will be available beginning
December 1
VBS is going to be so much fun!!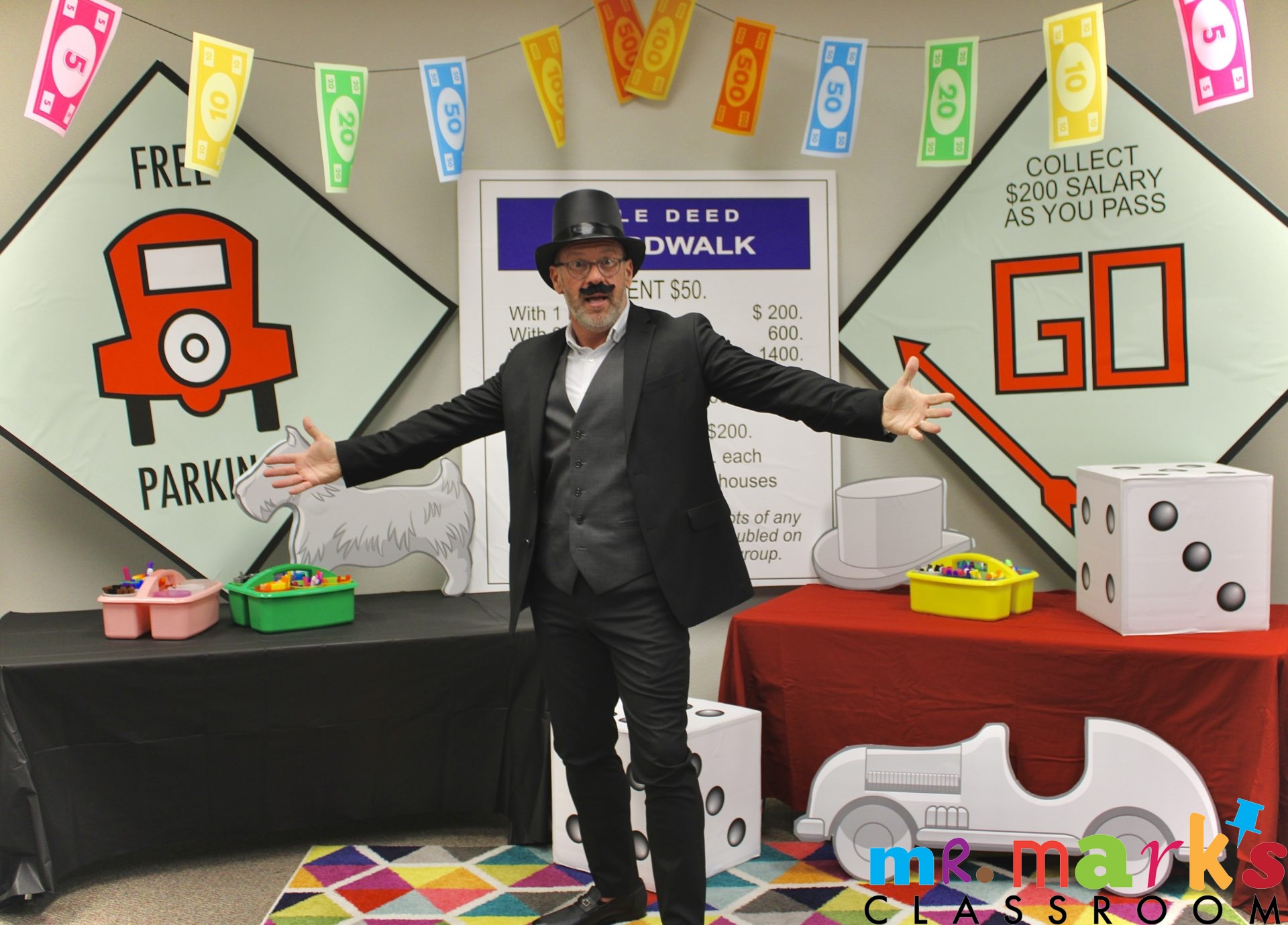 Creating a fun classroom theme with Monopoly game elements is easy and quick.  Make a big splash with very large game spaces adhered to construction foam board and cut apart for display.  The popular game pieces are enlarged and super easy to display on your tables.  I used a black table cloth and a red table cloth to see which looked good.  I loved them both so I left it that way.  I also created the large dice using boxes that were 16 x 16 x 16 inches.  If you have smaller boxes, simply trim the edges with scissors to fit.  I used some Mavalus Tape to hide any corners where the box was showing.  It will be fun rolling these large dice while you actually play the game! My favorite part is probably the oversized Monopoly money garland I made by pulling back the film backing and laying some yarn on it to stick.  I spaced the money to be about "money width" apart.  This added lots of color.
      I have to admit, dressing up like the Monopoly Man made this classroom even better!  You will need a mustache!!  I got my top hat at the party store.  They have lots of hats to choose from. Maybe another teacher can dress like the policeman with a whistle!
      One suggestion would be to add a jail in the corner with long black crape paper stretched from ceiling to floor and a sign, "JAIL!".  You can play review games to involve going to jail and "get out of jail" cards.  Ideas like this can add a fun twist to these great decorations.

Creating a fun theme with these easy decorations can bring your classroom to life!  Our giant decorations will all be available December 1 in case you have budget money left over from 2022 to use before the year is over.
VBS 2023 is going to be a blast!!