Over the next few weeks, I will be posting some VBS decorating ideas that I am working on for 2023.  I am in love with these giant games, and actually playing them is going to be crazy fun!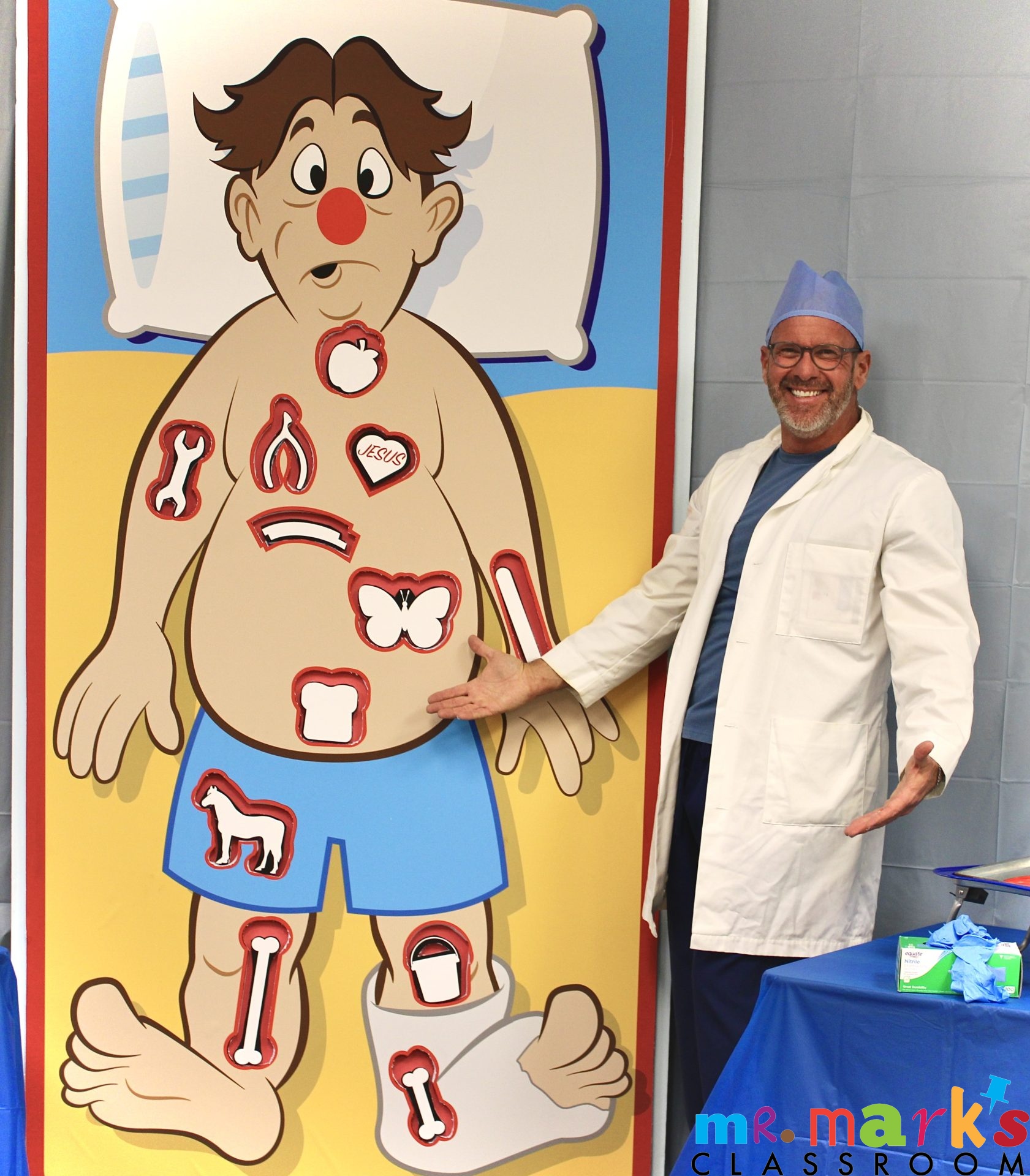 I picture this being a classroom set up like an operating room!  I hung light blue vinyl table cloths from the ceiling and darker blue table cloths on the tables.  I pulled from the resource room and camp supplies these first aid kits and gloves.  Next, I grabbed some metal cookie sheets, tongs, Bibles, markers and even a hammer (Ha!).  You might have access to real medical equipment but this was all I had on hand.  Our patient was centered on the focal wall and it was so easy to create.  
     I have demonstration videos for applying the large 8×4 foot stickers to construction foam board I purchased at Lowes.  I did choose to cut out the different objects & bones so we can play the game.  I will say, cutting those items out was slower and can not be rushed.  Use an Exacto blade or something smaller and change the blade often to be sure it remains sharp so you are not fighting the foam.  I chose to tape red construction paper to the back so the items will stay in place and not fall though. It would be fun to see if someone can figure out how to create a buzzer and light so when the BBQ tongs touch the side the light and buzzer will go off.  FUN! 
     Be sure to notice, since Jesus is in his heart, it was taped in place and can not be removed.  When you ask Jesus to forgive your sin and live in your heart, nothing can steal him away! (Amen!) 

     Finally, be sure your teachers dress the part by wearing scrubs, masks, and maybe lab coats if you have them.  The costume adds a lot to the decoration and excitement in the classroom.  
The large stickers will be available beginning December 1.  VBS is going to be so much fun!!