Supplies:
Tin Can
Yellow and Orange Card stock
Feathers
Tape
Glue Sticks
Buttons
Markers
Colored pencils
Scissors
Instructions:
Cut yellow card stock to fit around the can. Secure to your can with tape.
Cut wing shapes out of card stock. Use markers to add details to the wings. Make a small 1/4" fold and attach the fold with tape to each side of the can.
Cut a beak from orange card stock and attach with glue stick.
Attach buttons for eyes with glue sticks.
Cut small "feathers" out of yellow card stock. Attach the feathers to the lid of markers and the un-sharpened ends of colored pencils with tape. On some of the markers and pencils, tape regular feathers.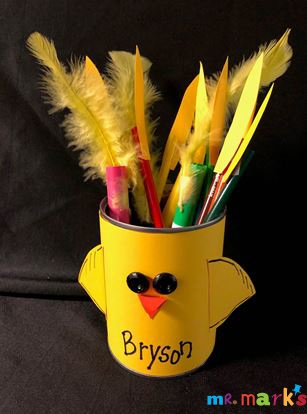 ---
---