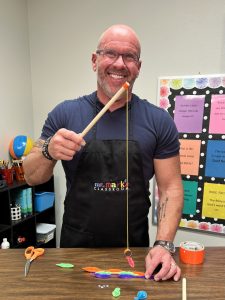 Gather:
Bug catching nets
Ping pong balls
Duct tape
Permanent marker
Plastic tub
Water
Books of the Bible poster
Prepare: Write the names of the books of the Bible on ping pong balls. Using the duct tape and permanent marker to label the nets for the categories of the Bible. (History, Law, Poetry, Major Prophets, Minor Prophets, etc.) Fill plastic tub with water and add labeled ping pong balls.
Teach:
Give a student a labeled net.
Have him/her try to find all the books that belong in that category.
Give another student a different net and follow the same procedure.
Once they gather their division, have them put the books in order and read them off to the group.