Last week I was digging in deep with my team to prepare our new budget proposal.  After getting messages from other ministers concerning budget requests,  I thought it would be best to let you know of a few items to consider for next year's budget.
VBS Decorations– This year the decorating for VBS can be a challenge.  We are making clubhouses with a night sky and telescopes.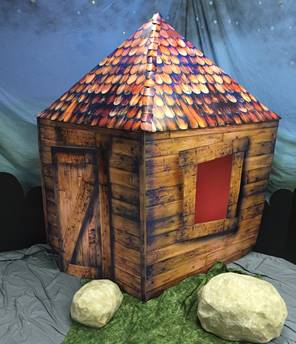 The most challenging might be the inside of the clubhouse.  I will be revealing all my ideas for decorating for VBS in November, but here are a couple of seek peeks to the clubhouse kits you can purchase.  Shingled Roof Clubhouse $99.97, Flat Roof Clubhouse $79.97, Interior Clubhouse bundle (4'x 8' sheets of high resolution wood panels) with large telescope & planet charts $179.97, Telescope and Charts only $ 29.97, and extra Interior Wood Panels  $77.97 a pair.
Mr. Mark's One Day Workshop– We are scheduling workshop dates for 2017 and 2018.  If you are interested in hosting a training conference for your workers and/or regional churches, email us at contact@mrmarksclassroom.com to find out available dates.

The One Day Workshop costs $1000.00 for a full day of training, plus travel and lodging.  Many churches have chosen to provide a parenting conference the night before while Mr. Mark is there.  The "Parenting is a Choice" Conference is $500.00.  Email us for more information.

Sharpen Conference– We are planning a one-day Sharpen Conference here in Oklahoma City April 29, 2017.  The conference is offered every other year.  Previously we spread it out over two days but feel like it better fits the busy schedules of children's  leaders and teachers to consolidate it to one day plus the price goes down too.  Schedule and details are still being finalized.  The cost is $69.95, which includes all the conference materials and lunch.  It's lots of fun & inspiration!