Supplies:
Cardstock
Construction paper (green, red, white)
Glue or glue dots (glue dots work faster)
Scissors
Markers (various colors)
Prepare:
Fold a piece of construction paper accordion style, about every ½ inch. After the paper is folded cut in segments of approximately 1 inch, 1.5 inches, 2 inches and 3 inches.
Instructions:
Fold white cardstock in half to make the card.
Use a brown marker to draw a tree trunk down the middle of the fold (don't draw all the way to the edge).
Glue or use glue dots to attach the first small accordion green paper to the top of the trunk in the fold, making sure that each side meets in the middle. If the card won't fold down completely, you may need to cut a slit in a few areas of the green folded paper.
Glue the other three layers of tree branches, starting from smallest at the top to the largest at the bottom.
Use markers to draw small ornaments between the branches.
Write your greeting in the card.
Fold the red construction paper to make a card, and glue it to the outside of your card to cover it (becomes front and back of your card).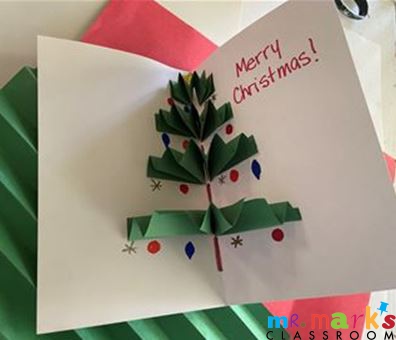 ---
Check out Mr. Mark's new Art and Creativity VBS 2022 decorations!