It's back to school time! We're all looking for ways to get our kiddos organized, and maybe even make mornings a little easier. Here's an easy idea that a child can hang on their doorknob! Let them make it or help you make it so they have some ownership in this activity!
Supplies:
Foam door hangers (Hobby Lobby or Oriental Trading)

Foam letters or stickers for the name (or you can write it with a marker)

Glue

Clothespins

Paint/paintbrush

/permanent marker



Instructions:
Paint the clothespins. Stick the letters down the center of the door hanger (Or you can write the name). After the clothespins are dry write the chores that the child needs to complete each day. Here's the tricky part: You need to write it one way on the clothespin for the "TO DO" side. Flip the clothespin over and make sure to write it the other direction so it will show up correctly on the "DONE" side.
Each night when the child goes to bed they can put all of the clothespins back to the "TO DO" side.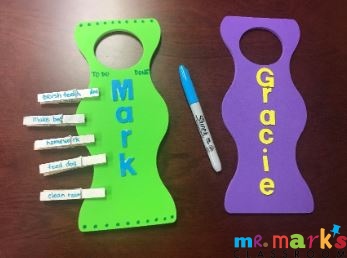 Bible Skill Boosters – Green Cycle Bonus Book

The Green Cycle Bonus book is finished! It's ready for immediate delivery as a quick download. Just in time for a new year of Bible verses we will be learning. This book is filled with fun games and activities for each of the 25 verses, as well as key passages, and Bible book games. Each idea is like a quick recipe with colorful pictures and simple, quick directions. There are lots of pages in the back you may copy to save you tons of time. This book is only available as a file download so you can use it now and not wait. We are looking forward to a fun year of learning our Green Cycle verses and key passages with these fresh new ideas. We hope you will use them too! Find this NEW Bible Skill Boosters – Green Cycle Book in our store.