Supplies:
Large pom poms (at least six for each worm)
Baker's twine (or any cotton twine)
Blunt darning needle
Glue
Googly eyes
Paint stirrers
Have you seen worms outside lately? They may be eating your garden, but soon they will turn into beautiful caterpillars. Today we're going to make our own wiggly worm puppets.
Cut off a length (24") of twine. Thread it through the blunt needle. Tie a knot in the end.
Run the needle through the center of the pom poms until you have at least six on the string.
Pull the pom poms slightly apart so that they will move (flow) like a worm.
Glue two googly eyes on the end pom pom. Cut two 12" lengths of twine.
Tie one between the head and the next pom pom.
Tie the other two pom poms from the tail.
Now tie the loose ends to the paint stick.
Move the paint stick to make your worm dance!

---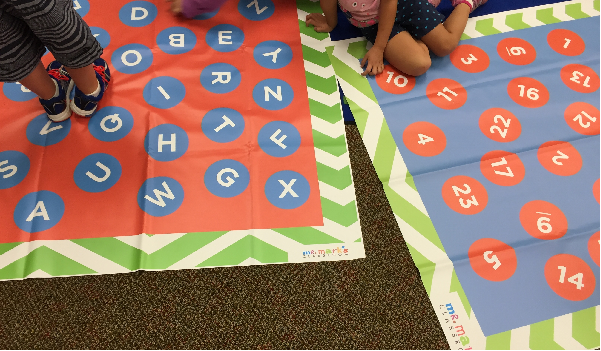 Your kids will have fun with the ABC-123 Preschool Hop Mat! It is a physically active game designed for preschoolers learning their alphabet and numbers (1-25). The Preschool Hop Mat is made of heavy vinyl and it is durable so kids can jump from letter to letter while saying the letters or numbers out loud. They can also be cleaned or sanitized without the concern of destroying the colorful artwork.
ABC-123 Preschool Hop Mat (set) $39.97. Click here to order yours today