"But whoever drinks of the water that I will give him shall never thirst . . . " John 4:14a

Supplies:
Refillable Water Bottle
Duct Tape (various colors)
Scissors (optional)
Permanent Markers
Instructions:
To create the handle or shoulder strap: Determine the length needed that works best for the child or person that will be using the bottle.
Carefully fold one side long strip (about 1/3 of the tape) toward center. Then fold the other side to meet the
folded edge. This will create a durable/sturdy strap.
Attach the strap using additional strips of duct tape to secure on both sides of the water bottle.
Creatively cover the water bottle with colorful duct tape.
On the SOLID colors of duct tape, use permanent markers to write your name and favorite Bible
verses to help better identify your "Thirst Buster!"
---
---
---
Many parents are looking for answers to hard questions like:
How do I get my kids to respect me and others?
Why does my beautiful daughter scream and throw fits?
Can you help me figure out why my son won't use common sense?
Seems like my discipline doesn't work. What am I supposed to do?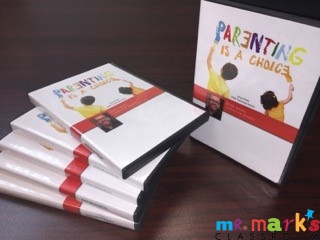 Parenting is a Choice (DVD/CD)
Media Type:: DVD