Supplies:
Ribbon
Buttons
Elastic hair tie
Thread
Needle
Scissors
Prepare:
Bibles are different sizes, so get your Bible and the ribbon to start. Wrap the ribbon one time around your Bible. Cut the ribbon where it meets itself after you stretch it around your Bible.
Instructions:
Fold both ends of the ribbon back under itself until there is a gap between the ribbons that is slightly more than the size of the hair tie. The ribbons should be far enough apart so that when the tie is hooked on the buttons there will be a little bit of tension.
Thread your needle and tie a knot in the end of the thread. Place a button on the ribbon, leaving the edge of the ribbon showing.
Sew the button on the ribbon – go through the button about four or five times, then tie a know and cut the thread.
Repeat this step with the other end of the ribbon.
Wrap the ribbon around your Bible and loop the hair tie on both buttons.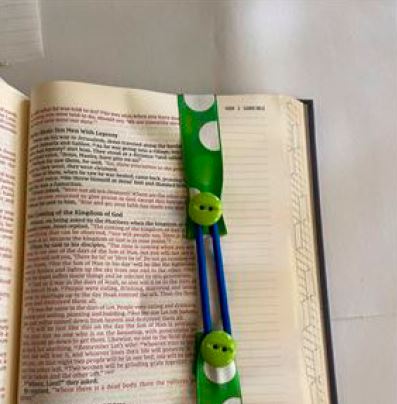 ---
---