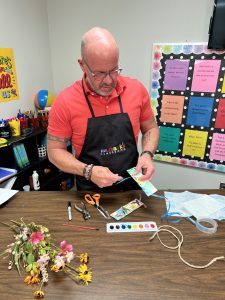 Gather: 

White cardstock 
Watercolor  
Placemats or plastic tablecloth 
Leaves, flower petals 
Twine 
Masking tape to wrap around one end of twine 
Hole punch 
Lamination or contact paper 
Prepare: Cut 2"X7" strips from the cardstock. 
Teach: 

Have each child watercolor the strip of cardstock, leaving no white. 
While those are drying, go on a nature walk with students and help them find leaves and flowers that can be brought in and glued on. 
Glue leaves and flowers onto bookmarks. 
Laminate the bookmarks or cover them with contact paper and trim them. 
Hole punch around the bookmark. 
Lace the bookmark with twine and tie it off at the top. Cut off the tape.