Supplies:
Small disposable cups
Liquid food coloring
Liquid dish soap
Water
Spoon
Drinking straw
Paper
Markers
Newspapers or a crafting table cloth
Prepare:
It's a good idea to put newspaper or a craft tablecloth under the cups before you begin.
Instructions:
Add a good squirt of liquid dish soap in the cup.
Mix about eight drops of liquid food coloring in about one inch of water in each cup. Stir with a spoon.
Add a straw to each cup and blow through the straw until colored bubbles rise to the top of the cup and try to spill over.
Remove the straw and touch your paper to the top of the cup over the bubbles. Repeat with the other colors.
Allow time to dry. After the art is dry go back with markers to make the bubble painting into whatever you want. Let the child be creative or direct them to add a tree, a cross, flowers, or an object from your Bible lesson, etc.
---
---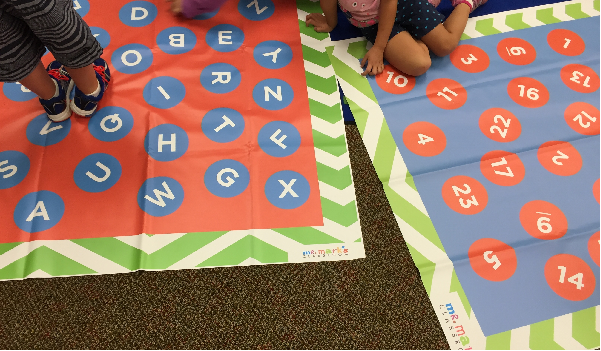 ABC-123 Preschool Hop Mat
Your kids will have fun with this physically active game and all you have to do is open it up and lay it on the ground. The mats fold easily and are stored in a special box to keep your cabinets organized. They can also be cleaned or sanitized without the concern of destroying the colorful artwork.