Have you every noticed the butterflies that migrate during September?  I know I've sat at football and soccer games and it seems like hundreds of butterflies are in the air.  Here's an art project to celebrate those butterlies. 
Supplies: 
White construction paper

 

Butterfly die cut or punch (or cut out butterfly shape with scissors)

 

Watercolor paints, brush, water

 

11" x 14" canvas (or cardboard if you're on a budget)

 

Blue acrylic paint

 

Elmer's glue

 
Start with your canvas, 

(

or your cardboard if you're 

on a budget) and paint it blue. Let that dry. 

 

Cut out (or die cut) butterflies from the white construction paper.

 

Paint the butterflies with watercolor paints. It's always more fun to paint the shape with water first, then add the watercolors to see how the colors bleed and mix.

 

Let the butterflies dry. Bend the butterflies slightly in half and glue them to the canvas.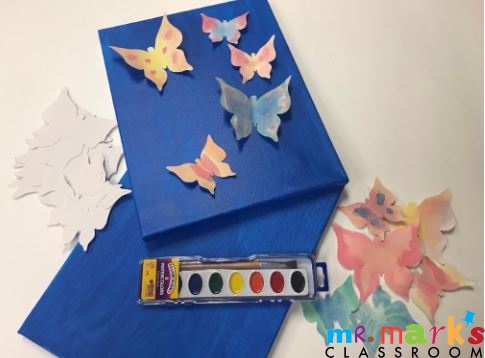 Bible Skill Boosters – Green Cycle Bonus Book

The Green Cycle Bonus book is finished! This book is filled with fun games and activities for each of the 25 verses, as well as key passages, and Bible book games. Each idea is like a quick recipe with colorful pictures and simple, quick directions. There are lots of pages in the back you may copy to save you tons of time. This book is only available as a file download so you can use it now and not wait. We are looking forward to a fun year of learning our Green Cycle verses and key passages with these fresh new ideas. We hope you will use them too! Find this NEW Bible Skill Boosters – Green Cycle Book in our store.