I've seen cute ideas for this day. A favorite is a groundhog cut-out inside a cup with a stick coming out the bottom of the cup so the child can make his groundhog pop up. Fun! I am always drawn to anything with handprints and a footprint of our little kiddos. I hope you enjoy this fun activity!
Supplies:
Brown Washable paint 
Green Washable paint 
Construction paper 
Black marker 
Instructions:
Paint the bottom of the child's foot with brown paint and stamp the footprint before it dries. (Note- the footprint will need to be upside-down).
Paint the child's hands green and stamp the hand prints on both sides of the footprint to resemble grass blades. (Fingers pointing up.)
After the paint dries, add eyes, nose, mouth, and a couple hands to complete your groundhog.
Write "Happy Groundhog Day" February 2 and be sure the add the child's name and age.
---
---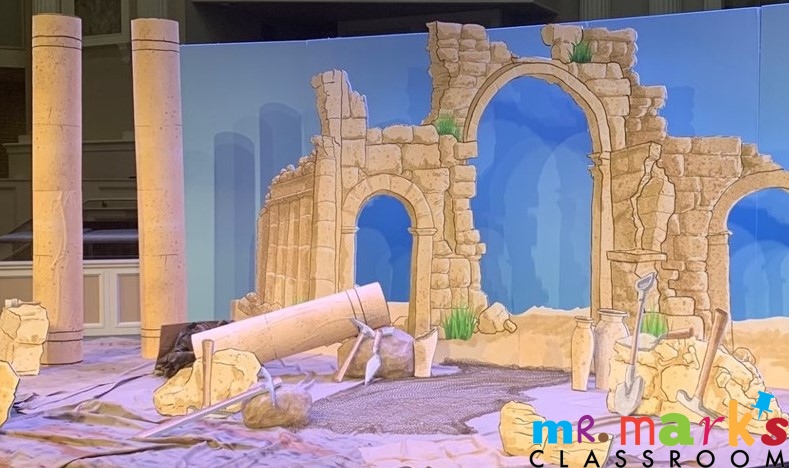 Archaeology Bundle
This archaeology "DIG" site will transform your stage into a scene from Israel that will grab everyone's attention. The large stone ruins are 16 feet long and eight feet high. They are professionally printed on four large sticker sheets 8' x 4'. No painting needed!!!
The bundle also includes three half column stickers. Many more props are included in the bundle stickers such as: Six boulders, four clay vases, and several tools (picks, shovels, brushes, & trials).
Back in stock! Please allow 5-7 days for delivery.