Supplies:
Decorative paper
Bamboo skewer or straw
Packing tape
String
Ruler
Hole punch
Flagging tape
2-by-3-inch piece of cardboard
Prepare:
Cut the flagging tape into 6-foot lengths. Cut the string into 12-20-foot lengths.
Instructions:
Fold the paper in half to create a 5½-by-8½ inch piece. Measure and mark one inch from the fold on the top of the paper, and one inch from the opening on the bottom of the paper. Place the ruler to connect the marks and fold the paper back over the ruler. Turn the paper over and crease the opposite side to match.
Open the kite and use clear, packing tape to secure the fold.
Cut a skewer to fit from tip to tip across the back of the kite. Tape the skewer in place.
Fold a piece of tape over the edge of the flap about three inches from the top. Punch a hole and tie the string in the hole.
Tape the other end of the string to the cardboard and wind the rest of the string around the cardboard.
Tape the flagging tape tail to the bottom of the kite.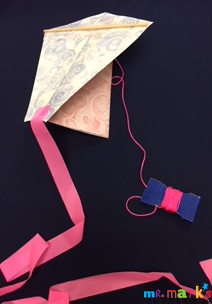 See Mr. Mark at One of These Upcoming Training Events
April 12-13, 2019
Central Baptist, Clovis, NM
Saturday | 9:00a.m.-12:00p.m.| Parenting Conference
April 27, 2019
Hope Fellowship, Lake Jackson, TX
Morning | The Seven Desires of Your Child's Heart, Dealing with Entitlements and a Lack of Respect
Afternoon | Fine-tuning your Super Power, The Three Pillars of Childhood Ministry
May 10-11, 2019
Green Valley Baptist Association (First Baptist Church, Henderson, KY)
Friday | 6:30p.m.-8:30p.m. | Enlisting and Building a Strong Teaching Team
Saturday | 9:00a.m.-11:00a.m. | Become an Amazing Storyteller, Fine-tuning your Super Power