Supplies:
Computer and printer (use 11 x 14 or 14 x 17 paper to make them large)

White chalk pen or white crayon

laminator

scissors

small cars
It's back to school time! Here's a fun and easy way to work with preschoolers on letter shapes and letter recognition.
Open a new word document on your computer. Choose an 11 x 14 or 14 x 17 layout so that you can print a large letter. Find a simple thick font to use (Arial is good, except you might want to find a different one for the

a's

to get that simple circle and stick "a"). Type a letter and enlarge it as much as you can, you may even need to go over 1000%. Print out each letter.

Use white chalk or a white crayon to make dotted lines on the letters to make it look like a road.

Laminate the letters so that you can use them over and over.

For the activity, invite the preschoolers to drive a small car over the shape of each letter. After they learn several letters, you can place the letters in the floor, announce the letter and have them "drive" to each letter.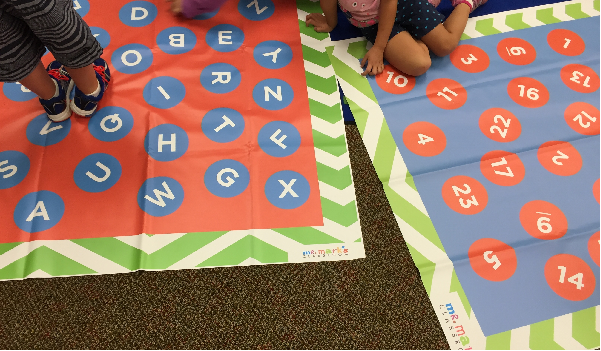 Teachers need a fresh idea for those fidgety kiddos! Here is the answer- the Preschool Hop Mat. It is designed for preschoolers learning their alphabet and numbers (1-25). Your kids will have fun with this physically active game and all you have to do is open it up and lay it on the ground. The mats fold easily and are stored in a special box to keep your cabinets organized. They can also be cleaned or sanitized without the concern of destroying the colorful artwork. Find the Preschool Hop Mats available in our store.