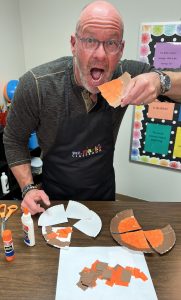 Gather:
1 paper plate
Brown paper
Orange tissue paper
Scissors
Glue
Instructions:
Cut your brown paper and tissue paper into squares
Cut your plate into four equal parts
Glue down your brow paper on the top of each piece making a crust
Glue the orange tissue paper onto each piece
Giant Thanksgiving Doodles are now available!
This is a fun project for your class to enjoy and decorate your classroom. Mr. Mark hung the poster low and provided markers for the kids to fill in the color. The kids enjoyed the activity and now we get to see our finished work all month.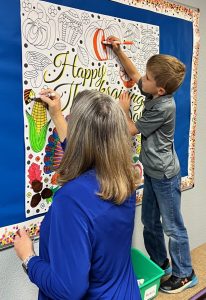 Get one for a single hallway or classroom, or get six to use in various areas and classrooms in the children's space for 50% off! Happy Thanksgiving! Click HERE to order yours!