This is My command, "Love one another as I have loved you." John 15:12
Supplies:
Old CD/DVD
Buttons (or black construction paper)
Orange construction paper
Quick-dry craft glue
Permanent marker
Clear shipping tape
White acrylic paint and sponge brush
White or Iridescent Fine Glitter (Optional)
Fishing line (optional)

Instructions:
Use the marker to write "Snowbody loves you like Jesus!" on the backside of the CD/DVD.
Attach a piece of fishing line to the back of the CD/DVD with a piece of shipping tape. This will also help you to know where the top of your snowman is while decorating.
Paint the front side of the CD with the white paint. (Optional: Sprinkle glitter over the wet paint.)
Crumple a piece of orange construction paper to form a carrot shape ( 4 X 6 inches works well).
Insert the carrot shape through the center hole of the CD/DVD. Use clear shipping tape to adhere to back side of CD/DVD.
Use quick-dry craft glue to add button eyes and a mouth. Allow it to dry.
Hang your See-D Snowman in an area that can remind you that "Snowbody loves you like Jesus!"


---
---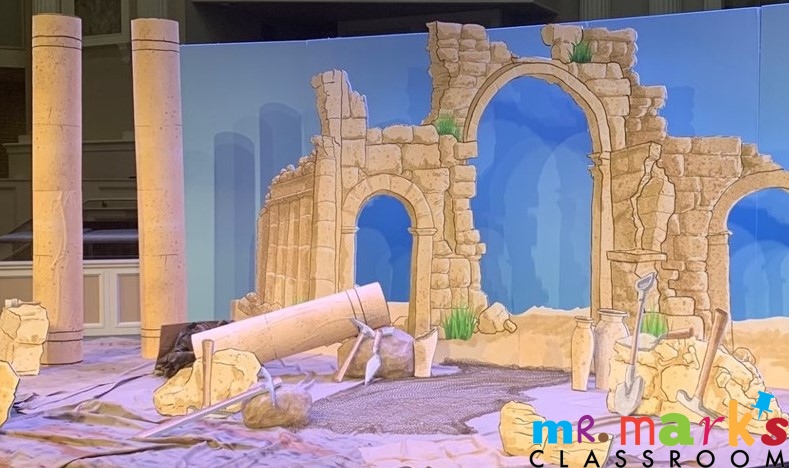 Archaeology Bundle
This archaeology "DIG" site will transform your stage into a scene from Israel that will grab everyone's attention. The large stone ruins are 16 feet long and eight feet high. They are professionally printed on four large sticker sheets 8' x 4'. No painting needed!!!
The bundle also includes three half column stickers. Many more props are included in the bundle stickers such as: Six boulders, four clay vases, and several tools (picks, shovels, brushes, & trials).
Back in stock! Please allow 5-7 days for delivery.