Whatever you do, do it enthusiastically, as something done for the Lord and not for men. Colossians 3:23

Supplies Needed:
ROLO® Candy
Hershey Kisses
Construction paper or card stock (pink and another color)
Aluminum foil
Tape
Glue Stick or glue dots
Markers
Prepare:
Cut construction paper to fit the candy—roughly 4 1/4" X 3 1/2". Cut a 2″ square out of pink paper. Cut a 1/2" X 1 1/2" piece of foil.
Instructions:
Fold the construction paper accordion style (back and forth, as demonstrated in the video) to create creases.
Wrap the paper around the package of ROLOs leaving about 1/4" past the top edge. Attach with strategically placed tape or glue dots so they are hidden.
Use the square piece of pink paper to carefully fold around the bottom edge to create the eraser. Use double -sided tape to hold it in place.
Fold the foil piece in half and wrap it around the pencil to be the "metal piece" holding the eraser. Place it around the edge of the pink paper over the tape.
Use a small piece of rolled tape or glue dot to adhere the Hershey Kiss on the opposite end to create the "point" on your pencil.
Use markers to write a Bible verse or thought on the pencil. (This can also be done prior to wrapping the paper around the candy.)
Option:
Use a variety of colored paper and kisses to create "Colored Pencils."
---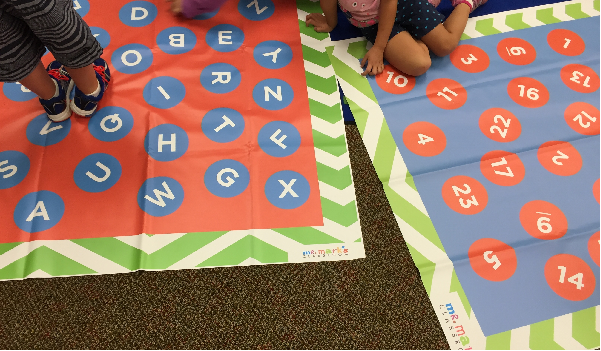 Teachers need a fresh idea for those fidgety kiddos!  The Preschool Hop Mat is designed for preschoolers learning their alphabet and numbers (1-25). Your kids will have fun with this physically active game and all you have to do is open it up and lay it on the ground. The Hop Mat is made of heavy vinyl and durable so kids can jump from letter to letter while saying the letters or numbers out loud. They can be cleaned or sanitized without the concern of destroying the colorful artwork. Watch as Mr. Mark talks about the Preschool Hop Mat.