Supplies Needed 

White card stock 
Black construction paper 

Brown construction paper 
Brightly colored construction paper 
Pencil 
Scissors 
Glue stick     

Instructions 

Cut a cross out of black construction paper. 
Cut a hill out of brown construction paper. Cut out both of the pieces of the template. Then, using a pencil, trace the cross on black card stock and the hill on brown card stock. Cut out both of the pieces. 

Gather together five or six brightly colored pieces of paper to create your sunset background.  
Tear a strip from the top of each paper that is about 2-3 inches in width. 
Choose which order you want to layer your colored paper strips for your sunset background.  
Using a glue stick, add glue on the back of the bottom piece of your sunset and glue it onto the bottom of a white piece of card stock paper. 
Continue adding glue to each colored paper strip of your sky,  and glue them in. 

Add glue to the back of the brown hill and place it at the bottom of your sunset background.  
Trim extra paper that hangs over the edge of the card stock. 
Then glue the black cross in the center of the hill.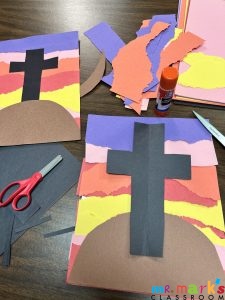 Written By: Mark Jones & Sarah Hagar