This is such a strange time we are living in right now. I hope you and your family are safe and healthy. I don't mind working from home, but I miss seeing my teacher friends and all the children. We have had online services for three weeks now and next week we will miss waving palm branches in the worship services, as well as Easter. It is very strange.
I'm sure you are coming up with ways to stay connected to your kids and their parents as well as your teachers. We have put together a few things to help us stay connected like a Monday email with resources and ideas parents could use at home. I want to share it with you since you might be needing some ideas. Feel free to use mine if it will help you in anyway. I will try to keep sharing whatever we come up with so you will have more ideas if you want them. I have noticed several children's pastors sharing on Facebook their sermon note pages for kids. That could be useful for the many weeks ahead. Let me know if this is helpful.
Remember- It's not stuck at home, it's safe at home. This will pass and we can trust the Lord to see us through it. Amen?
Your Friend,
Mr. Mark
---
Dear Parents-
As we continue in our social distancing, your Preschool and Children's ministers want to support and encourage you with some helps and resources you can use with your children. First, we must say how much we are missing you and your children. We love your kiddos so much and it is hard to be apart this long. We have a few suggestions that hopefully will be helpful and each Monday we will send you more ideas. We have organized these resources and ideas into the following categories so you can know what's coming.
Family Bible Study of the Week (Monday School instead of Sunday School)
Movement/Games Ideas
Art Ideas
Fun Ideas
Websites and blogs we recommend
Five actions for parents to lead in this challenging time.
Books and Movies- We recommend both for all ages over the next few days. Choose books and movies that are rich in emotional content. Ones that drive good conversations and help kids make needed connections. Stacie, Shelby, Eric and I are going to be reading books each day on our new Facebook Page "Story Time With Kids." We will read the books and it will stay available for listening anytime your kids want. Mr. Erick will be reading an Easter countdown book reflecting on Jesus each day until Easter. Miss Stacie and Miss Shelby will be reading picture books. I will read a chapter book each day. I hope you will schedule in time with us and help the kids make comments so we can connect with them.
Family Dinners- It looks like more of these are happening since we are not dashing off to other activities. Use this time as an opportunity to talk about everyone's experience. Be sure to power off anything that is a distraction so your family can talk and hear each other easily. I suggest asking each family member, "What's been an unexpected gift in quarantine? What's been the hardest part of being quarantined? What surprised you (good or bad) about doing online school?"
Role-Play- This is a powerful tool for helping kids develop emotionally and socially. Practice better ways of navigating conflict at home (likely at an all-time high in this togetherness), and use "I" statements rather than "You" statements.
Play Games- It's great to hear that families are having game nights with board games during this time. Games are perfect for having conversations and connections. Be open to letting kids teach you games too. I hope you will enjoy the games and movement ideas we suggest each week.
Limited Exposure- There are times you need to watch the news and be updated, but leaving that on all day can cause unwanted anxiety. Be sure your children are not hearing your voice speak scary things as you are on the phone or talking to other adults. Manage your own anxiety in positive ways too. (Avoid gaining the "Quarantine 15.")
Monday, March 23, 2020
Family Bible Study of the Week (Monday School instead of Sunday School)- "Jesus Told Parables"- One Family Bible Study and two ways to get it each week.
Kids Ministry 101– This LifeWay website is full of fun ideas and activities. Click below to see the website and read how to get the FREE digital pass for the videos and activity pages. We have attached this week's pages.
LifeWay Kids free app- This will provide the same Bible stories, family conversations ideas, daily Bible readings, and on-screen coloring page and activities for each Bible story.
We hope you all enjoy these resources to have your Family Bible Study each Monday and that it will help strengthen your family's spiritual growth. We look forward to the time we can be with our kids in Sunday School again.
Movement/ Games Ideas (Post your videos and tag us!)
Dad Push-Up play- As Dad does a push-up, the child must slide under him then when Dad goes down, the child must jump over. Repeat as long as Dad can hold out. Moms should try too!
Feet Movers- Child lays on her back with an empty container just above her head. She must use her feet to grab the stuffed animals or soft objects near her feet to bring over her head and drop into the container. Time kids for repeat play or let them race.
Jump the Stick- The parent lays a broom on the kitchen floor and moves it back and forth like a windshield wiper. The child counts how many times they can jump the stick without touching it. Parents should take a turn.
Go on a Hike- Walk the trails around the Nature Center.
Visit a local Park- Play and walk the trails.
Art Idea- Styrofoam Printing
It's an easy and rewarding printmaking technique! You can do this project with Styrofoam trays or egg container lids all from the grocery store (free).
Gather:
Pencil
Paint brushes or mini paint roller
Craft paint
Rolling pin
Paper
Instructions:
Cut the Styrofoam sheets into desired shapes (example- Easter egg).
Use the pencil to draw Easter egg designs in the Styrofoam, pressing down rather hard to create a pencil line groove.
Gather printmaking materials- mini paint roller (or brush), paper, and rolling pin.
Paint the "printing plate" which is the Styrofoam shape. Once the paint roller is coated with an even layer of paint, roll it over your Styrofoam shape (Tip: Use a sheet of scrap paper underneath to catch the extra paint). Be careful not to fill in the grooves of the design since this will transfer to the paper.
Print your design by positioning the painted design face down on your blank paper then run the rolling pin evenly over the Styrofoam to transfer the design to the paper.
Lift the Styrofoam to reveal the print!
Repeat to create more prints as desired.
Fun Idea- Build a Catapult
Gather:
3 cardboard tubes
Wooden spoon (a plastic spoon will also work well)
4 elastic bands
pom poms, marshmallows, scrunched up balls of paper or other soft items for launching
Instructions:
Lay two of the cardboard tubes side by side, and then place the third tube on top of the first two to form a triangle shaped stack.
Fasten the tubes together with an elastic band at each end – these are the white elastic bands in the photos.
Next, position the wooden spoon at the front of the tubes, and loop an elastic band over the top of the spoon, stretch it around the tubes and then bring it back over itself at the top of the spoon so it holds the spoon to the tubes. This is shown by the red elastic band in the photos.
Finally, take the last elastic band, loop it over the handle of the wooden spoon, take it around the cardboard tubes, and back over the spoon as shown by the black elastic band in the photos. The photo below shows another close up view of these elastic bands.
Catapult Games
Some of the pom poms will fly a long way. This means you can make all sorts of target games with this simple catapult. Try lining up some paper cups and launch the pom poms inside the cups. You could even have a points system where different cups are worth different points.
Websites and Blogs we recommend:
At stories.audible.com, you will find hundreds of titles available completely free. The collection has been handpicked by the editors at Audible.com. These stories offer a screen-free option to help break up the day for families with students home from school.
Check out https://www.gonoodle.com/ for short and longer video fun. It's like indoor recess!
---
Construction Stage Decorations Bundle
This impressive decorations bundle will fill a stage with a spectacular construction theme with no tracing and no painting. All of the pieces are on large stickers (8' x 4') and will easily adhere to construction foam board in only a minute. This large Construction Stage Decorations Bundle includes: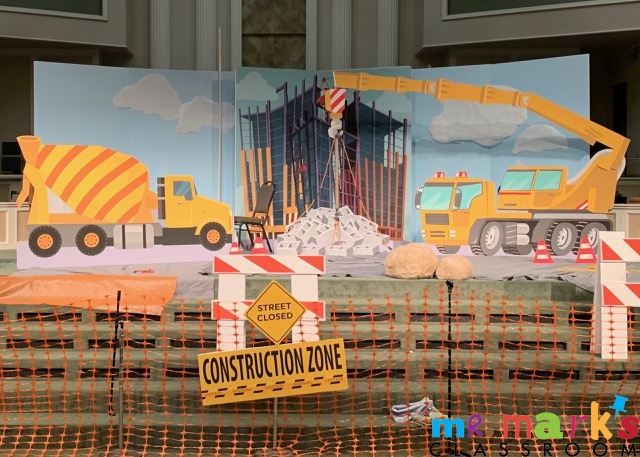 Click here to order your Construction Bundle or check out other great VBS decorations available in our store.