Fall Craft: Branch Slice Owls and Apple Magnets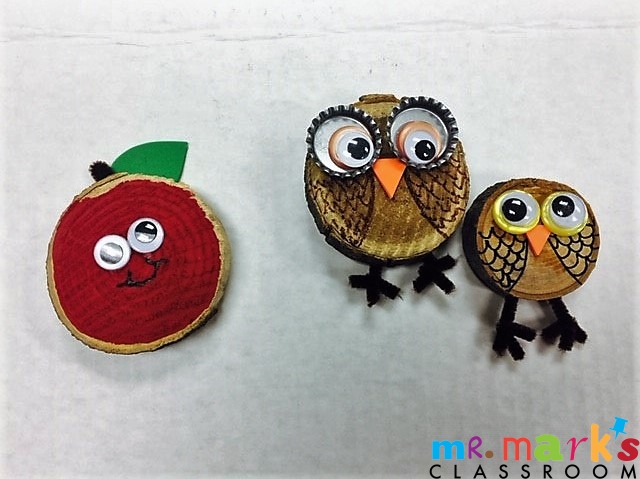 Gather:
Branch slices (these are approximately 2 – 2 ½ inches in diameter, ¼ to ½ inch thick) You can cut your own or buy them in a bag at Hobby Lobby.
Markers
googly eyes
pop bottle tops
buttons
orange and green fun foam scraps
red acrylic paint and brush
brown chenille stems
strong button magnets
hot glue gun or tacky glue
For Apple: Paint one side of the slice red. Allow to dry. Glue googly eyes, brown chenille stem, and green foam leaf to apple. Draw a smile with a marker. Hot glue the magnet to the back.
For Owls: Draw the two feathered sections (wings) with marker. Glue the orange foam beak between the wings. Glue on the bottle caps, buttons, googly eyes. Make the legs from a brown chenille stem and glue to the back of the slice. Hot glue the magnet to the back.
You can use these to teach that we are the apple of God's eye (Psalm 17:8) or as a part of "Who are you going to invite to church?" on round-up day. They could also represent members of our family for whom we are grateful.
Fall Game: Tic Tac Toe
Gather:
Branch slices (approx. 2- 2 ½ in. diameter)
permanent marker
Flat backed glass marbles (5 each of two colors)
Ziploc bag or other small bag to keep the pieces together
SUPER EASY! Draw a tic-tac-toe on the branch slice. Play tic-tac-toe!