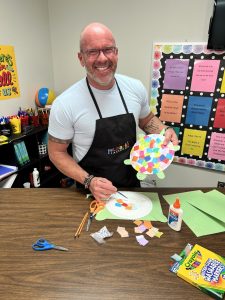 Supplies Needed  
1 inch tissue paper squares 
School glue 
Wiggly eyes 
Scissors 
Paper plates 
Instructions  
From the green construction paper, cut out an oval for the turtles head, a curved piece for a tail, and four oblong pieces for the legs.  
Spread glue over the bottom of the paper plate with a paintbrush.  
Cover the paper plate with tissue paper squares. When you get to the edge of the plate, fold the tissue paper underneath.  
Glue 2 wiggly eyes to the turtle's head, then draw a nose and mouth on the turtle's face with the markers.  
Glue the turtle's head, legs, and tail to the paper plate.  
By Mark Jones & Sarah Hagar